Wednesday OPP
【创业实战经验分享】
要成功就向成功的人学习,千万别错过这场顶尖领导实战经验分享会!
给自己一个机会,在我们的平台轻松创造无限未来

皇冠大使创业分享会
=============
讲师:
1. Mr Kuah Chin Keng
2. Ms Teh Hong Kiew
3. Mr Jacky Kuah Seng Lin
4. Mr Kelvin Ang See Bin
日期: 18/12/19 (星期三)
时间: 8:00pm - 10:00pm
地点: 赢升公司
收费: 免费

【Entrepreneurship Experience Sharing】
Look to successful leaders, don't miss this valuable sharing by our top leaders!
Make it a reality on our platform

CA Business Sharing
==============
Speaker:
1. Mr Kuah Chin Keng
2. Ms Teh Hong Kiew
3. Mr Jacky Kuah Seng Lin
4. Mr Kelvin Ang See Bin
Date: 18/12/19 (Wednesday)
Time: 8:00pm - 10:00pm
Venue: Insaan HQ
Fee: FREE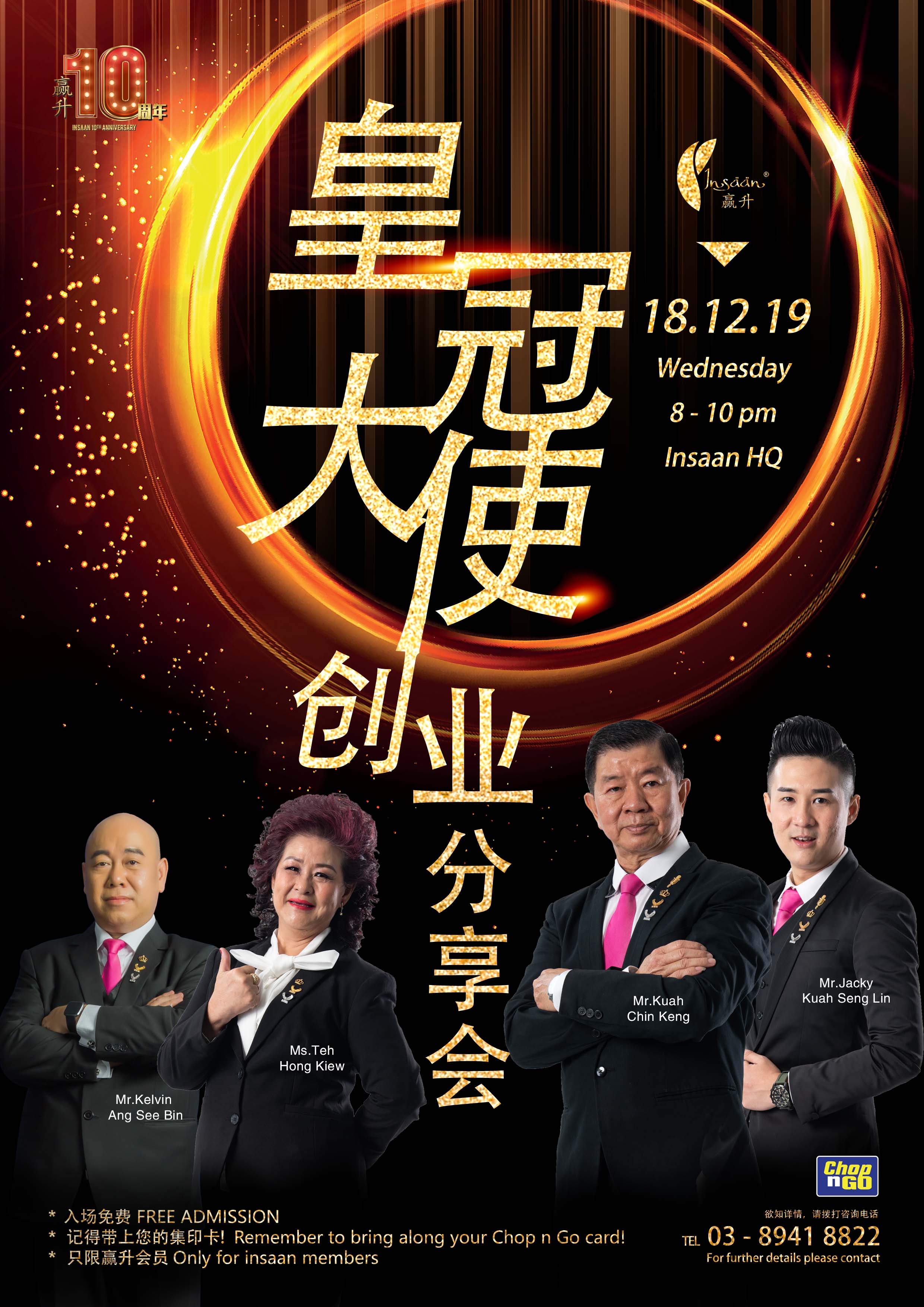 ----------------------------------------------------------------------------------------------------------
2019年,我们又踏进全新的Wed OPP啦!
活动期间集印花就可换好礼
凡出席Wed OPP者将可以得到一张Chop n GO,
每出席一场Wed OPP可以获得1个印花。
集满6个印花只需付RM5即可 购买到1瓶价值RM 79的金海参。
集满 12个印花只需付RM10即可购买到 1盒价值RM 154的193益生菌。
活动日期即日起至31/12/2019
大家踊跃参与赢升Wed OPP噢!❤
Updated version of Wed OPP!
Collect stamps to redeem promotion
Whoever attends Wed OPP will be able to get a Chop n GO,
A stamp will be given on each attendance of Wed OPP.
Collect 6 stamps to get 1 bottle of Gamat at RM5 that worth RM79.
Collect 12 stamps to get 1 box of CryoBac 193 at RM10 that worth RM154.
This event commences effective today till 31/12/2019
Come and join Insaan Wed OPP in 2019❤