SO-PRO
Solution of Professional Fitness!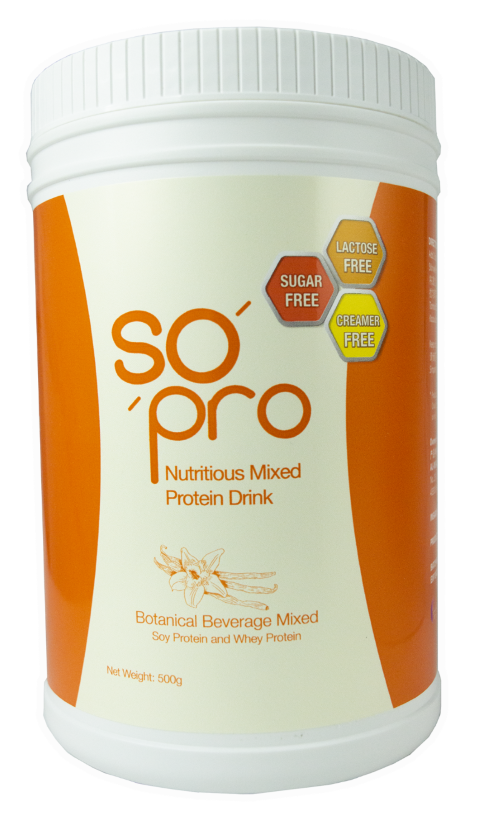 SO-PRO is a highly nutritious protein drink, packed with many well-researched and scientifically proven patented ingredients. 6 years in the making, SO-PRO has been carefully formulated from among hundreds of possible ingredients and combinations. This all-natural and satisfying nutritional meal supplement provides the optimum nutrients to facilitate weight management while achieving a healthier body.
Download Information for SO-PRO
Download SO-PRO Flyer (Old version)
Boost metabolism
Help burn body fat
Provide satiety
Gain muscle mass
Strengthen bone/teeth
Improve digestive health
Maintain skin beauty
Improve immunity
Sustain energy release
Control blood sugar level


CareFlow® - Patented Mango Extract
Grape Seed Extract (exGrape®SEED)
Orafti®Synergy1-Patented Prebiotic-Inulin
PalatinoseTM- Patented Beet Root Extract
Monk Fruit Extract
Isolated Soy Protein
Whey Protein
Whey Protein Hydrolysate
Skim Milk
Fish Collagen
*WITHOUT ARTIFICIAL COLORS, FLAVORS, CHEMICAL BANNED INGREDIENTS
6 Uniqueness: -
High-quality protein, calcium, magnesium
Low in calorie, carbohydrate, fat
Free from sugar, lactose, trans fat
No added creamer, free-flowing agent, preservative
100% natural and patented ingredients
Safe and effective, no side effect
Add 2 scoops (30g) into ±200ml of warm water. Stir well to enjoy.
It can also be blended with a small amount of low-sugar fresh fruits, or mixed with plain/low-sugar yogurt or soy milk, to add flavors.