Natured Red Palm Oil
Extra Virgin Red Palm Oil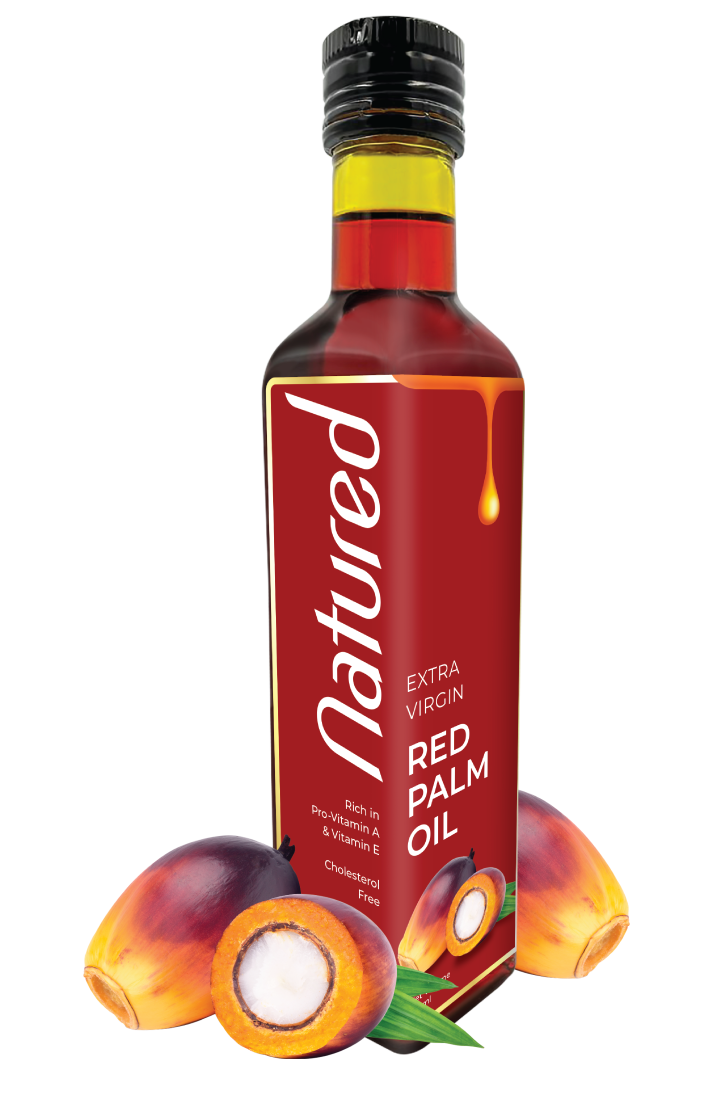 NATURED is the world's first EXTRA VIRGIN red palm oil. Made from Premium Quality oil and is harvested exclusively from United Plantations' sustainability certified estates in Malaysia. The freshly picked ripened palm fruits are processed within 24 hours to preserve the natural freshness and using Germany cold process technology for extraction to maximize all the goodness of phytonutrients perfected by nature.
Enjoy a daily natural dose of NATURED for versatile cooking use and consumption.
Pro-Vitamin A
- Maintain Eye health & vision
- Prevent visual impairment and night blindness
Vitamin E Tocotrienols
- Acts as a powerful antioxidant
- Anti-inflammatory & Anti-cancer
Phytosterols
- Protect against fatty liver
- Lower LDL/Cholesterol level
Co-Q10
- Improve heart health
- Prevent cardiovascular diseases
alpha and beta-Carotene and Lycopene
- Strengthen immunity
- UV protection
Squalene
- Act as a natural skin moisturizer
- Anti-aging and radiation protection
Phenolics
- Good for brain/cognitive health and neuroprotective
- Help to prevent Alzheimer's disease and dementia
Why Choose NATURED?
NATURED extra virgin red palm oil is sourced from the freshest palm fruits available in Malaysia and processed within 24 hours. It is produced in only small quantities to maintain the highest standard by retaining 100% original constitution of the palm fruit oil.
Most importantly, it is extracted using German cold-process technology, perfected with vacuum low-temperature molecular distillation treatment. With this technology, the highest quality nutritional contents can be obtained.
NATURED Red Palm Oil is abundant in natural red colored nutrients such as beta-carotene, pro-vitamin A, vitamin E, squalene, phytosterols and Co-Q10. These nutrients help to prevent visual impairment, enhance the immune system, improve heart health, act as a natural skin moisturizer, and prevent Alzheimer's disease.
10 healthy characteristics:
100% natural vegetable oil
0% cholesterol and trans fat
Non-GMO, No Allergens
No artificial colour, flavour or preservative
Heat stable and versatile cooking uses
Suitable for kids, vegan, pregnant /lactating mothers
Complied to GMP & HACCP standard
Assured food quality and KKM approved
Tested by accredited food laboratories in Malaysia
Accredited by Malaysia Sustainable Palm Oil (MSPO)


100% Extra virgin Premium Red Palm Fruit Oil
Recommendation uses:
Suitable for cooking, baking, stir frying with vegetables, steaming eggs, deep frying, drizzling over salad, soup rice, cereal and versatile cooking uses.
Direct consumption
6-12 Months infant: 1 tsp/day
1-8 years old kids: 2 tsp/day
Adults: 1-2 tbsp/day
Lactating/Pregnant Women: 2-4 tbsp/day
Usage Tips:
Avoid cooking food with excessive moisture content, dry food prior to cooking
Use optimum amount of this cooking oil, for deep frying purpose not recommended to reuse more than 3 times (Oil needs to be covered and advisable to be used within 2 days).
Store in a cool dry area, keep away from direct sunlight. Best to consume within 2 months after opening.
Note: Oil will solidify in temperature below 23°C, restore at room temperature