Crown Gamat Gel
Glow with Confidence!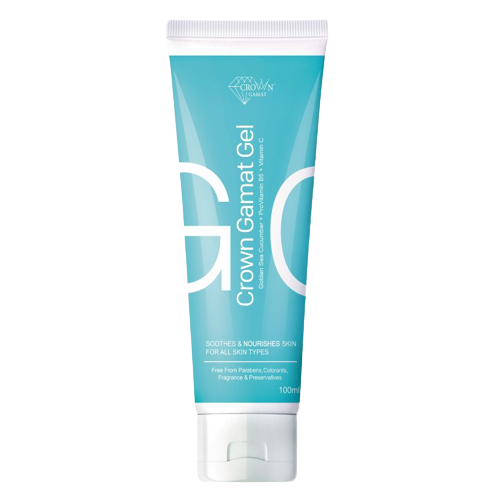 CROWN GAMAT (CG) GEL is the result of decades of research and science on Gamat with stringent manufacturing practices & innovative product processing.
What Is Gamat(Sea Cucumber)?
Sea cucumber (Stichopus Variegatus) is a marine animal with an elongated, cucumber-like shaped body, which has been consumed for generations as "Gamat" to Malays and "Hai Shen" to the Chinese communities. Traditionally, Gamat has been used topically for wound healing or treatment of skin problems, and has also been applied on the face and body to beautify the skin.
Insaan's superb star product, GAMAT ASLI has achieved sales of a few million bottles. Indeed, a few thousand bottles are sold every day! The impressive sales volume underlines the effectiveness and miraculous benefits of this product! Since its rollout, GAMAT ASLI has proven its undisputed efficacy and benefit to customer's health and healing, specifically in relation to skin problems eg. Skin lesions/cuts/burns; inflamed, sensitive skin; uneven skin tone; dark skin; black spots, etc.
A Good product speaks for itself !
Notwithstanding GAMAT ASLI's remarkable success, we continue to strive for excellence to serve our customer better.
And today, we are proud to announce our launch of another series of INSAAN GAMAT ASLI product, namely the CROWN GAMAT (CG) GEL. In this version, it is presented in the form of an innovative body care gel! This all-new proprietary 5-in-1 product formula, contains powerful ingredients in addition to the original Golden Sea Cucumber extract! We have also added Aloe Vera extract, Comfrey Flower extract (Allantoin), Vitamin C and ProVitamin B5 to further enhance the overall skin-beautifying effects of the product!
New breakthrough, skin-beautifying All-in-One CG GEL!
INSAAN CROWN GAMAT GEL: -
CROWN GAMAT (CG) GEL is a multipurpose body skin care gel, produced with the cleanest bio-technology procedures, using pure golden sea cucumber extract (Stichopus variegatus) and aloe vera extract for enhanced efficacy. There are few better, in terms of soothing, rejuvenating, revitalizing, moisturizing, and nourishing your skin.
CROWN GAMAT (CG) GEL is 100% aqueous base and oil-free. It is non-greasy & easily absorbed when applied to the skin. It can be used as daily skin care to promote good & healthy skin because it is so packed with 80% collagen and cell growth factors; broad spectrum natural minerals; and vitamin C & B5. It is especially good as a moisturizer which helps to hydrate skin leading to more supple & soft skin. It is ideal for individuals who have oily skin, and can be used prior to the application of make-up.
The formula of CG gel contains a proprietary Comfrey Flower extract, which is standardized to contain Allantoin, which has anti-inflammatory & anti-pain properties that help to soothe and calm irritated skin. Allantoin is known to play a significant role in wound healing. It can be used to help hydrate and soothe problem skins and ideal as facial mask and for pimples.
With CG GEL, your skin glows and confidence grow!
CROWN GAMAT (CG) GEL can be used for all skin types and is safe to be used on the face and body due to its skin-friendly formula. It is an effective gel that is packed with multiple benefits, for all body parts.
From Head to Toe:
Head: Hair Moisturizer/Styling Gel
Face: Blemish & Acne Treatment/ Lip Balm/ Mouth Ulcer/ Piercing Aftercare/Moisturizer/Mask
Neck: Moisturizer/ Anti-Wrinkle Gel
Skin: Soothing Gel/ Moisturizer/Soften Skin/ Anti-Scar Gel
Hands: For Dry/Itchy/ Sensitive Skin
Nail:Gel Primer/ Cuticle Gel
Stomach: For Reduction of Stretch Marks
Knees And Elbows: Lighten Dark Knees and Elbows
Thigh And Leg: Prevent Skin Chafing /Cracked Feet
Other Body Parts:Heal Wound Scar and Cuts/ Insect Bites/ Sun Burns/ After-Shave/ Piles Lubricant


CG GEL is an essential kit for any home, outdoors, work, and travel, anywhere you are. Keep it in places that are easy to access in case of emergencies.
Golden Sea cucumber Extract (Stichopus variegatus) – Helps in cell growth and skin regeneration

Aloe Vera Extract (Aloe Barbadensis)– Soothes and moisturizes skin

Comfrey flower extract (Allantoin)– Provides anti-inflammation and anti-pain properties

Provitamin B5 (Panthenol)– Improves skin hydration and elasticity

Vitamin C (Ascorbic Acid)– Promotes whitening skin and collagen production
Why choosing INSAAN CG Gel?
Powered by 5 effective ingredients for skin-friendly formulation
Multipurpose all-in-one body skin care gel
Suitable for all-ages and all skin types
Easy quick-absorbing, non-greasy and oil-free gel
100% Natural and safe for use, with no side effect
No Paraben, Colorant, Fragrance, Preservative, Steroid
Dermatologically tested and clinically proven results
Registered and approved by KKM


Apply an appropriate amount to desired area, 2-3 times a day and gently massage to let the gel absorb evenly. Use it often for the best results.
PRECAUTION: For external use only. Avoid contact with eyes.
Discontinue use if signs of irritation or rashes appear. Keep out of the children.