Wednesday OPP
我的老爸是男神!
GO! Go! My hero, SUPERDAD!
父亲节专题活动 Father's Day events:
===================
✔️健康讲座? Health Talk
Part 1: <知足"肠"乐,不得"癌"> Say NO to Colon Cancer!
讲师:Jun (营养师, Nutritionist)
日期 Date: 06/06/18 (星期三 Wed)
时间 Time: 8.00pm – 10.00pm
地点 Venue: 赢升公司 INSAAN HQ
===================
HappyFather's Day#父亲节快乐?
爸爸,我爱你!❤️❤️~
感谢一路有你,辛劳了!
Dad, I love you! ?
Thanks you for always being there~
在这感恩的季节里,让我们一起关怀伟大的爸爸们吧~
In this season of thanksgiving, let's care our greatest daddy~
***********************************
千万别错过,我们还有marketing加油站,由我们最优秀的领袖Mr. Hau开启您的梦想之旅❤️。
记得带上您的Chop n Go卡!
Don't miss it,! We have marketing session -"fuel station" ⛽, which will be conducted by our top leader, Mr. Hau to give inspiration ❤️
Remember to bring along your Chop n Go card!
#WED OPP #HealthTalk#Health#Beauty#Insaan#Supplement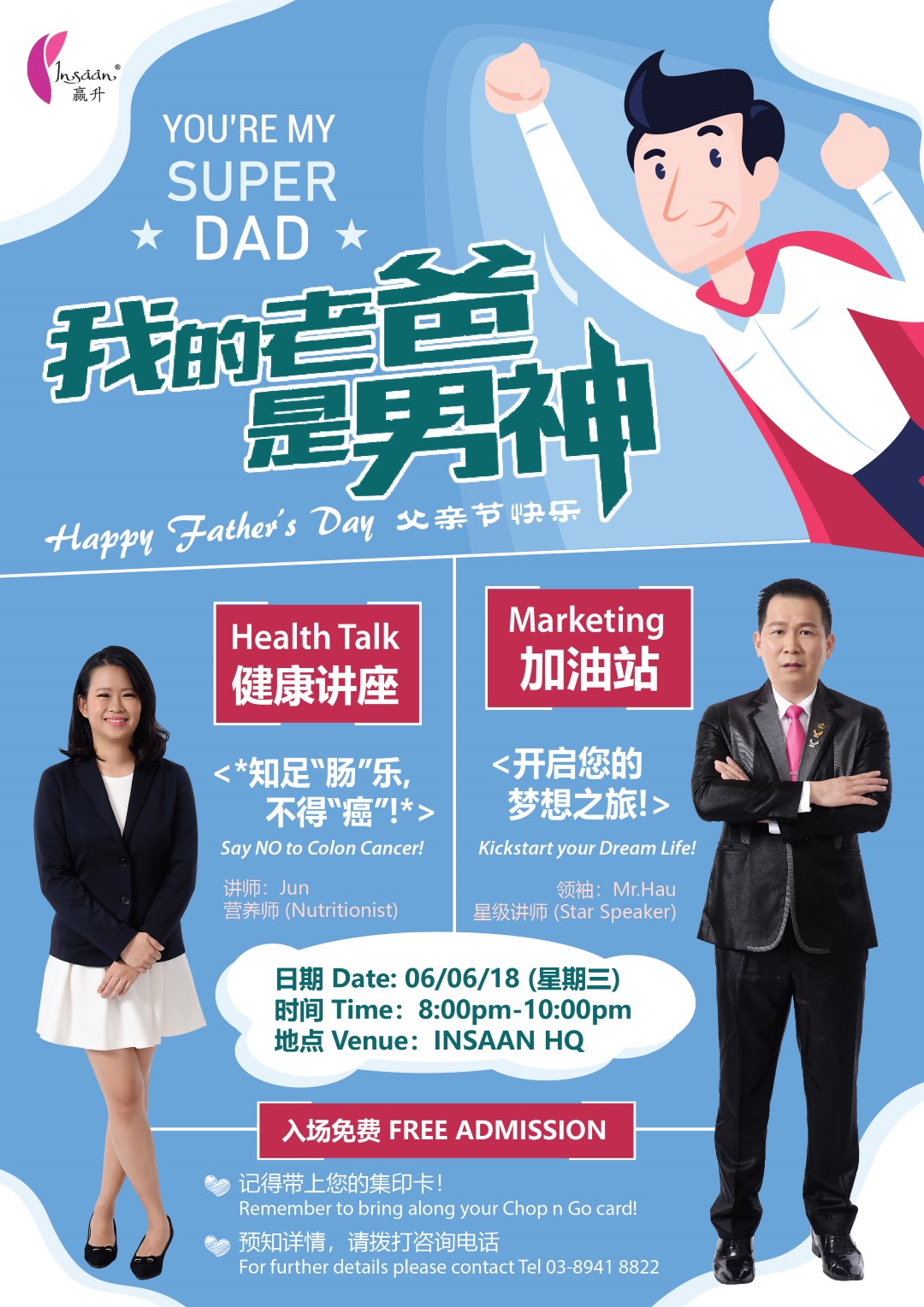 2018年,赢升有好康要给你!
WED OPP更换了全新模式!
活动期间集印花就可换好礼
凡出席Wed OPP者将可以得到一张Chop n GO,
每出席一场Wed OPP可以获得1个印花。
集满5个印花只需付RM5即可 购买到1瓶金海参。
集满10个印花只需付RM10即可购买到1瓶Cellfood。
活动日期即日起至31/12/2018
大家踊跃参与赢升Wed OPP噢!❤
INSAAN have good news for you!
All new WED OPP in 2018!
Collect stamps to redeem promotion
Who ever attend Wed OPP will be able to get a Chop n GO,
a stamp will be given on each attendance of Wed OPP.
Collect 5 stamps to get 1 bottle of Gamat at RM5.
Collect 10 stamps to get 1 bottle of Cellfood at RM10.
This event from now until 31/12/2018
Come join Insaan Wed OPP in 2018❤